What Is 5G?
5G is the fifth generation cellular (mobile) network technology.
We are currently in 4th generation (4G) that is capable of speeds of 10Mbps-20Mbps in the real world, but that pales in comparison with 5G, which is capable of connection speeds of more than 1,000Mbps. It is all about connecting as many devices into Internet of Things (IoT). And there are a lot of devices. By 2020 almost 31 billion devices are expected to be connected to the internet and by 2025, almost 76 billion.
Why Should I Care About 5G?
Whatever you do now with your smartphone, you will be able to do it faster and better. As I already said, more and more devices will be able to connect to the internet but will also be able to communicate with each other.
Driverless cars are coming, like it or not, and they will need super high-speed internet that 5G will provide to connect and to communicate among themselves. Freaky right, I know! Future is coming ladies and gentlemen.
Lower latency or time lag is another benefit of 5G. Latency is the communication delay on the network, the time lag between you sending a command and the device responding.
Let's dive into which smartphones are available and which ones will be out in 2020 to utilise the brand new 5G technology.
Will 4G Phones Support 5G?
Short answer – no.
4G phones will not support 5G. But 5G phones will support 4G the same as existing 4G phones support 3G and older (slower) networks.
Because the 5G network is not replacing 4G but building upon it, it will actually improve 4G as well. That is great news because most of the phones with 5G coming out in these early years will not be cheap which means that most of the people will be on 4G for some time. We'll also see lower latencies thanks to the steps operators are taking with 5G.
For standalone 4G chipsets, the speeds we have [today] is the way they'll remain. But when a customer buys a 5G solution, they'll get 5G plus a much higher 4G [speed] built in.

MediaTek's Finnbar Moynihan
Will 5G Be Dangerous?
Short answer – no one knows yet.
A lot of people think they know the answer to this question in one way or another ie. if 5G will be harmless to humans or not but no-one can definitively state at this time whether mobile radiation in general causes cancer due to our inability to stage the gold standard of clinical trials which is a randomised controlled trial (RCT).
Also, because 5G is only effective over short distances, there will have to be more antennas than ever before and this will lead to increased radiation exposure.
A small group of Finnish citizens is trying to stop the spread of 5G base stations, suggesting that their higher levels of electromagnetic radiation may threaten human health.
Scientists are quick to point out that the radiation will still remain well within the guidelines.
Fun fact; mobile phone manufacturers in the United States test devices for compliance with wireless radiation emission standards by placing them against the head, and near the torso with a 5mm separation from the body.
I don't know about you, but my phone is not floating around me.
Cities all over the world have installed banns on 5G rollout citing health concerns for their citizens among others. As the Brussels environment minister Céline Fremault (CDH) said, the people of Brussels are not guinea pigs whose health can be sold at a profit. She told Bruzz that "A pilot project is not feasible with the current radiation standards".
Government officials are not the only ones of course raising the health concerns.
In an appeal to the European Union, more than 180 scientists and doctors from 36 countries warn about the danger of 5G, which will lead to a massive increase in involuntary exposure to electromagnetic radiation. The scientists urge the EU to follow Resolution 1815 of the Council of Europe, asking for an independent task force to reassess the health effects.
One of the initiators is Dr L. Hardell, Professor of Oncology at Örebro University in Sweden. He states: "The telecom industry is trying to roll out technology that may have very real, unintended harmful consequences. Scientific studies, both recently and over many years, have identified harmful effects on health when testing wireless products under realistic conditions. We are very concerned that the increase in radiation exposure by 5G leads to damage that cannot be reversed".
The reality is, there is no stopping 5G. In some countries it is already covering major cities and rolling out to more rural areas. Examples for that are Ireland, South Korea ( By the middle of June 2019, South Korea had over one million 5G subscribers ), United Kingdom and United States. On July 31, Atlanta became the first city in the US to have 5G available on all of the carriers.
Are 5G Phones Available Now?
Just about every phone maker out there is working on a 5G phone right now. Some of them, like Samsung, already have a few models on the market, while others, like Apple, still have 5G phone in the works.
Here are the 5G phones available on the market. They are listed in no particular order as each one is a great choice depending on how deep your pockets are and which manufacturer you prefer.
XIAOMI MI MIX 3 5G
HUAWEI MATE X
HUAWEI MATE 30 5G
LG V50 THINQ 5G
ONEPLUS 7 PRO 5G
SAMSUNG GALAXY S10 5G
SAMSUNG GALAXY NOTE 10
OPPO RENO 5G
ZTE AXON 10 PRO 5G
XIAOMI MI MIX 3 5G
Xiaomi's first 5G outing. Read more about it below in the article.
HUAWEI MATE X
Huawei is at the forefront of the 5G. The Chinese giant is one of the key players worldwide with its 5G technology and is heavily involved in Trump's tariff war against China. Their 5G technology is basically banned in the US and multiple other countries around the world. That isn't stopping Huawei from making new 5G phones though. They have two phones on the list; the futuristic and expensive Mate X and Mate 30 5G. Let's look into the future first.
The most expensive phone on the list is Huawei Mate X. Huawei says the Mate X will cost €2,299, which converts to more than $2,600. With its foldable design, it is a direct competitor to Samsung's Galaxy Fold. It was supposed to come out in June 2019 but Huawei didn't want to rush it out after Samsung's debacle.
HUAWEI MATE 30 5G
The new Mate 30 5G is an excellent phone you can buy right now. It is also in the middle of a conundrum facing this manufacturer. A flagship phone with beautiful design, great camera setup and battery life, it is going to be a surefire success in many countries. Just not the "main" ones. The Google-centric ones because this phone does not support Google apps.
Who knows, in a few months the ban that Huawei faces might be lifted. It is a fickle world we live in, thanks to The Donald.
If you don't rely heavily on Googles apps, this is an excellent choice, otherwise, choose a different manufacturer for the time being.
LG V50 THINQ 5G
The LG V50 ThinQ takes the LG V40 and effectively converts it into a more powerful, 5G-capable device – but leaves much about last year's phone unchanged. Plus it's too expensive for what it's offering.
ONEPLUS 7 PRO 5G
The OnePlus 7 Pro 5G is minimally different from its non-5G version. That's not a bad thing as the base phone is phenomenally powerful at a lower price than the competition, and is one of the least expensive options for getting on the 5G bandwagon.
SAMSUNG GALAXY S10 5G
At $300 more than Galaxy S10 Plus, it's a tough sell. Samsung is doing more than just inserting a 5G modem into its first 5G phone. The device features a 6.7-inch display — bigger than the 6.4-inch panel on the Galaxy S10 Plus — and it's powered by a 4,500 mAh battery.
SAMSUNG GALAXY NOTE 10 5G
The Samsung Galaxy Note 10+ 5G is the South Korean manufacturer's latest flagship smartphone, combining the processing power of the Exynos 9825 chipset with a large 6.8-inch AMOLED display and 12Gb of RAM. The $1,300 Galaxy Note 10+ 5G is identical in every way to the Note 10+, save for its deep-purple colour and 5G modem.
OPPO RENO 5G
The Oppo Reno 5G is a fantastic big-screen phone thanks to a great tri-camera setup, a blazing processor and its distinct design.
ZTE AXON 10 PRO 5G
The ZTE Axon 10 Pro 5G offers excellent performance and is one of the first 5G phones available, but it faces stiff competition from more affordable alternatives.
Does Apple Have A 5G Phone?
Apple does not have a 5G phone out yet.
Some sceptics believe we are in for a long wait while others, half glass full types, think that all three late-2020 iPhones will support 5G. As Macworld says, this may be disappointing, given the progress made by Apple's competition, but a 2020 launch is a lot better than had been feared. Until Apple reached an agreement with Qualcomm, in fact, it was thought that Apple's iPhone 5G might not arrive until 2021. 
Cheapest 5G Phone
The cheapest 5G phone on the market is Xiaomi Mi Mix 3 5G.
Xiaomi has been on a roll since launching the original Mi Mix 3 sliding phone in 2018. It has launched the flagship Xiaomi Mi 9, and the Mi 9 SE, with both delivering very good value for money.
As Xiaomi's premium flagship, Mi MIX 3 5G has the most advanced 5G technology. You can find it for as low as $540 online.
Mi Mix 3 5G pushes the limits of Full-Screen Display with 93.4% screen-to-body ratio. The front of the phone is virtually all screen thanks to the hidden dual-camera design, made possible by the innovative magnetic slider, which stayed working like new after 300,000 intensive test slides. At least that's what Xiaomi says.
Mi Mix 3 5G will reportedly accidentally slide open and start doing stuff when you take it out of your pocket every so often. It's a great phone nevertheless and among the most affordable 5G options around.
Specifications:
6.39-inch Samsung AMOLED, 19.5:9 FHD+ display, Magnetic Slider Design.
Qualcomm Snapdragon 855 Octa Core 2.84GHz processor, Adreno 640 GPU.
6GB LPDDR4x dual-channel memory, 64GB UFS 2.1 storage.
12.0MP+12.0MP Rear Cameras, 24MP+2MP front cameras.
3800mAh battery, QC 4.0+ Quick Charge (10W Wireless Charge).
MIUI 10 based Android 9 Pie OS, with NFC.
5G Phones in the UK
EE was the first network to launch 5G in the UK on May 30, 2019, and it's since been joined by Vodafone, which turned on its service on July 3 and BT Mobile that launched 5G services in the UK, rolling it out to the usual suspects, London, Birmingham, Edinburgh, Cardiff, Belfast and Manchester, as well as 14 other cities and large towns, including Coventry, Leicester and Bristol.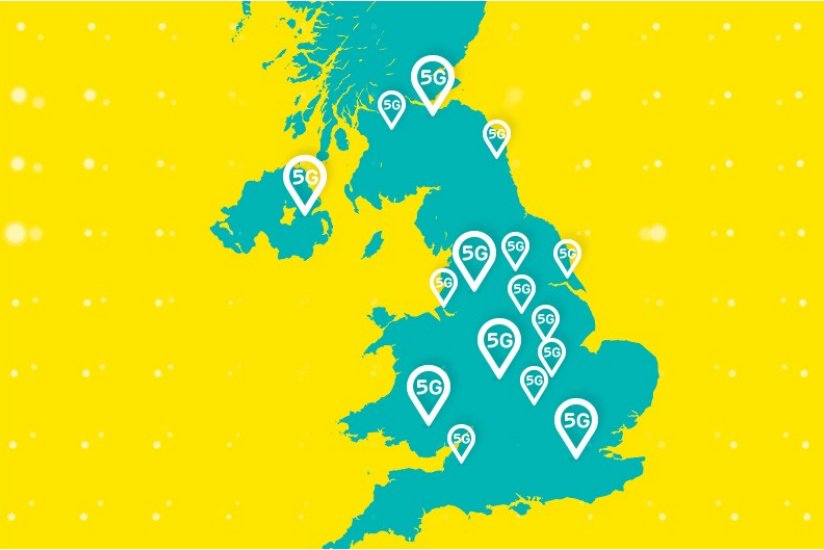 O2 will be switching on their 5G network from October 2019, beginning with areas of Belfast, Cardiff, Edinburgh, London, Slough and Leeds. By the end of the year, they're planning to bring our 5G network to parts of 20 towns and cities, before rolling out to a total of 50 by summer 2020.
Three is only offering 5G for home broadband and only in London.
5G Phones in the USA
Although 1 in 3 Americans think they already have 5G and 47% of AT&T subscribers who own iPhones think their device is 5G-capable, the truth is, 5G is only available in some parts of major cities and only on certain phones and no iPhone is yet capable of 5G.
The good news is that every major cellular carrier in the United States is officially offering 5G service to customers. Each carrier has picked a different handful of launch cities, so there's at least a theoretical opportunity for millions of people to become early adopters if they're willing to deal with spotty service.
There are currently five 5G-capable smartphones on the US market: Samsung's Galaxy S10 5G, Note 10 Plus 5G, OnePlus 7 Pro 5G, LG's V50 ThinQ 5G and the Moto Z3 for Verizon with 5G Moto Mod.
Cities with AT&T 5G:
San Jose, California
Atlanta
Austin, Texas
Charlotte, North Carolina
Dallas
Houston
Indianapolis
Jacksonville, Florida
Las Vegas
Los Angeles
Louisville, Kentucky
Nashville, Tennessee
New Orleans
New York
Oklahoma City
Orlando, Florida
Raleigh, North Carolina
San Antonio
San Diego
San Francisco
Waco, Texas
Cities with T-Mobile 5G:
New York
Los Angeles
Las Vegas
Dallas
Cleveland
Atlanta
Cities with Verizon 5G:
Atlanta
Chicago
Denver
Detroit
Indianapolis
Minneapolis
Providence, Rhode Island
Saint Paul, Minnesota
Washington
Phoenix
New York City
Boise
Panama City
Cities with Sprint 5G:
Chicago
Kansas City, Misssouri
Dallas
Houston
Atlanta
New York
Washington
Los Angeles
Phoenix
5G Phones in India
5G is not yet available in India. The allocation of 5G based airwaves will start by end of 2019. The three biggest Telecom's in India are working on their 5G rollout with Reliance Jio claiming that their 5G network will be ready in six months.